TLR Pedagogical Case Study 2: Creating jobs and Responsibilising households in South African waste management
Nate Millington & Kathleen Stokes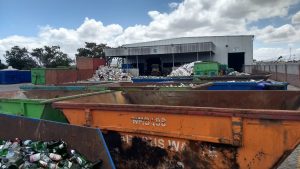 Introduction
Over the last decade, all spheres of government in South Africa have launched programmes that seek to reframe waste not as a burden but rather as an economic opportunity, a form of decent work, and a civic duty. From voluntary cleanups to public employment programmes to local entrepreneurship support schemes, waste is promoted as an emerging economy laden with financial value as well as a site for community pride and responsibility. In spite of these purported benefits, questions over job security (e.g. precarious contracts or sudden programme cancellations) and working conditions (e.g. health and safety equipment and adequate compensation) frequently accompany such programmes.
This pedagogical case study describes and analyzes existing mechanisms that are attempting to reframe waste as an opportunity, while asking students to reflect more generally on the normative value of work in the waste sphere. We describe several prevailing types of schemes for creating community labour within the South African waste economy and focus on the interface of job creation ambitions at the national level with municipal obligations to manage waste. Additionally, we highlight projects whose aim is to create more responsibility for waste at the household or community level. Given the purportedly low cost of entry into the waste economy and low skill levels required for much of the work, state officials increasingly see waste work as a target for job creation ambitions. The low profit margins of the industry can complicate this, however, and opportunities in the private sector can often be overstated. Additionally, the nature of some of the work in the industry can raise questions about what sort of work should be encouraged, as much waste work is low-paid and unpleasant, offering very little opportunities for advancement or a secure livelihood.
Job creation goals, when they intersect with budgetary constraints, economic slowdown, and austerity, leave South African government officials with a challenge: how to expand and improve infrastructural services while increasing efficiencies and ensuring costs are fully covered? These dynamics raise broader questions about what sorts of job creation arrangements should be encouraged by national governments, even in contexts of extreme underemployment. Alongside policy imperatives for decent work for its own sake, this case study assembles resources to better understand the contemporary interface between government and job creation in contexts of economic downturn and broad underemployment. While job creation often draws on normative values that stress the importance of work, this case study asks students to reflect on labour in an increasingly uncertain time.
In particular, we ask: are there other ways in which resources could be distributed? This case study pulls together research in a context of high formal unemployment, South Africa, in dialogue with contemporary work on redundancy, automation, and even burnout, which is typically grounded in global north contexts. The empirical story we tell is situated alongside conceptual engagements with the nature of contemporary work and labour, allowing for students to reflect on the challenges of job creation in the global south while reflecting on alternative ways in which the contemporary economy could be arranged.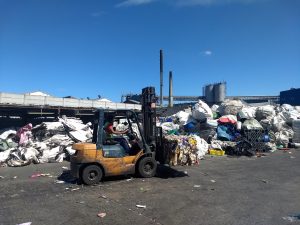 Labour and the South African Waste Sector
Working with Waste
The material infrastructures of urban life, including  water, waste, and energy, are critical sites of political contestation and claims-making on behalf of urban residents. Infrastructures are critical to contemporary modernity, but their application is uneven and often reflective of existing inequalities and patterns of uneven spatiality. Critically, too, while infrastructures are often seen as largely technological systems, they intersect in complex ways with human labour. As Rosalind Fredericks argues, "These systems underscore that infrastructures are processual–they are constantly undergoing innovative processes of care and (re)fabrication by the bodies and systems of sociality they are built upon" (17). Labour is critical to how infrastructures are maintained.  
Waste management is a particularly labour-intensive infrastructure, especially in the global South where automation is limited. Labour is commonly cited as one of the primary costs in the sector, as materials must be discarded, collected, sorted, and distributed to appropriate sites for disposal or transformation. Often the most visible workers in the waste economy are informal waste pickers and reclaimers, whose informal collections are typically only compensated by the cost of the materials they collect. There are many additional forms of labour underpinning the waste and recycling sectors, however. Jobs range from collecting and sorting to the high-tech manufacturing of recycled goods. Much of waste management is done by the private sector, including both large-scale international waste management companies as well as smaller-scale enterprises.  
Municipal workers involved in waste work tend to receive a wage and other benefits, and are more likely to be unionised. Such jobs are extremely desirable. Many municipalities have outsourced some or all of their frontline workforce to private companies or corporate bodes who provide services on the municipality's behalf. While this work is still considered part of the formal labour market, such roles are more likely to be paid a lower wage, operate on a part-time, short-term or casual basis, and be exempt from full privileges and benefits of a full-time, unionised job. At the same time, waste work such as public cleaning and recycling has been incorporated into public works and employment programmes (see below), which operates as a type of workfare for able-bodied, unemployed adults across the country.
Government imperatives for waste labour
While waste management is constitutionally recognised as a municipal responsibility, service provision exists within a broader governance principle of cooperative governance. This means that while local governments hold the primary authority for providing waste management services to its residents, national and provincial spheres of government are expected to cooperate, oversee, and inform these services. At times this has led to provincial governments taking over responsibility for services when municipalities are unable to manage them. More generally, this leads to forms of collaboration in the form of legislative and policy imperatives, cross-sectoral initiatives (such as public works programmes), and financial resources for infrastructural investments.
At the same time, the waste and green sectors are often mentioned as priority areas for job creation, and one of national government's central preoccupations is the creation of formal jobs. This is can be seen in the Government's New Growth Path, which seeks to create 5 million new jobs and reduce unemployment to 15% between 2010 and 2020. The program argues that promoting labour intensive work, up-skilling and encouraging greater public/private investment can help contribute towards these efforts. The National Waste Management Strategy supports this wider job creation ambition by setting targets for the waste sector. Its third goal—to grow the contribution of the waste sector to the green economy—seeks to create 69,000 new jobs in the waste sector by 2016, and to gain an additional 2,600 Small to medium size enterprises (SMMEs) and cooperatives in the sector. To ensure widespread job creation, labour intensive approaches to waste management are called for – in particular for the areas of collection and recycling. For green economy advocacy organisation Green Cape, finding ways to fully recycle the primary waste streams in South Africa could unlock 17 billion rand of additional resources.
Job Creation in the Waste Sector
Public employment and entrepreneurship programmes have targeted waste management as a priority sector. At the state level, efforts tend to focus on either publicly-subsidised work opportunities or supporting cooperatives, SMMEs, and other forms of entrepreneurial citizenship. While distinct, these two approaches contribute to a common logic of work as a livelihood strategy, where enrolment into formal wage labour is a necessary step towards future economic gains. Work in the waste sector is seen to provide the acumen and experience necessary to either identify more stable employment configurations or, preferably, to become an independent economic agent. These efforts are generally aimed at getting marginalised and low-income residents involved in the waste economy, framing their participation as a first step towards the formal economy, and thus an opportunity to gain skills for future work or entrepreneurial activities.
To achieve these ends, state officials speak of providing a supportive and enabling environment for communities to realise the value of waste and take advantage of it for their own personal upliftment. Campaigns which highlight the value of waste and opportunities for personal economic gain have been established. In Gauteng, recent government-sponsored media campaigns have announced that "trash is treasure" (City of Johannesburg) and "waste is money – recycle and generate income" (BkB). Mass media campaigns are often accompanied by more labour intensive strategies such as public clean-up days, incentives for community-led cleaning and greening projects, public works and preferential procurement schemes, as well as mentorship and training for fledgling entrepreneurs.

Expanded Public Works Programme and Community Works Programme
At the national level, public works schemes like the Expanded Public Works Programme (EPWP) and Community Works Programme (CWP) have been applied to the waste sector, and are frequently referred by provincial and municipal state officials in relation to local cleaning and waste management services. National public schemes like the Expanded Public Works Programme and Community Works Programme fund temporary and part-time work opportunities for un- or underemployed community members – with an increasing emphasis on youth, given the disproportionately unemployment rates (52.2% of 16-24-year-olds in the last quarter of 2018, compared to national average of 27.7%). These schemes have a dual purpose of providing social protection for working age adults, while contributing toward necessary public works and services. Municipalities are not supposed to use public works schemes to replace existing work. However, tracking this can be difficult – if a service is insufficiently provided, permanent jobs might not be displaced, but they also might not be created.   
The Expanded Public Works Programme (EPWP) seeks to "draw poor unemployed, unskilled often lowly skilled people into the world of work" (quote from personal interview) through the creation of short term or part-time public work opportunities. While managed by the Department of Public Works, EPWP relies upon other departments in national, provincial and local government to privilege labour intensive strategies within their core mandate wherever feasible. When these opportunities are identified, EPWP will contribute an agreed upon financial contribution towards wage costs, and other support as deemed necessary. The Department of Public Works suggests this is a win/win, where government departments are able to fulfil their mandates and create and expand public infrastructures and services, while also improving livelihoods and providing work experience to a significant proportion of the population. While EPWP works across a variety of government departments and sectors, waste management is targeted through the "Working on Waste" and "Food for Waste" sub-programmes.
Waste initiatives have also been an sector in EPWP's devolved Community Works Programme (CWP), which seeks to provide long-term, part-time work opportunities which respond to needs identified by community reference committees.
Across these different public works schemes, labour is framed as a work opportunity rather than a job in both programmes, with individuals described as participants rather than beneficiaries. In both cases, waste becomes integrated into discourses surrounding community upliftment, environmental protection, and infrastructural development. This positioning reinforces the understanding that public works may contribute towards waste management and cleaning in a variety of contexts, but the specific conditions are meant to lead elsewhere and not be an end in itself.
EPWP, in particular, has become ubiquitous in many metropolitan municipalities, which now draw upon it to supplement their frontline waste management and cleaning labour force. Looking to benefit from national support and agendas, sub-national levels of government also face many obligations and capacity struggles in service delivery. Nevertheless, officials acknowledge the municipal responsibility for service provision but justify the creation of public work opportunities on the basis of immediate social protection, contributing towards local service delivery, while also raising local awareness of waste's value.
Critical Response
While these programmes have consistently exceeded target numbers, contributing to financial resources to thousands of households, they are not without criticism. At the most basic level, there is disagreement over the way participant's work is viewed more as an opportunity for social protection and training, rather than a job as such. For supporters of these programmes, the use of a stipend and short term contracts on a project by project basis are deemed acceptable since the work opportunity would not otherwise exist. The aim is to spread money as broadly as possible, where more participants on a low, temporary, or part-time wage is preferable to fewer receiving a higher income or more stable form of employment. Critics, however, disagree, as seen in several conflicts between labour union representatives and the programme. Take, for instance, the request from EPWP to be exempt from forthcoming minimum wage legislation on the basis that it would lower the number of programme participants and thereby reduce the spread of public employment as social protection.
While individual success stories can be found across EPWP, CWP, and associated programmes, the broader aim of introducing people to the formal labour market and improving livelihoods across the country have yet to be realised on a mass scale. Inappropriate or insufficient skills training is often blamed for the struggle to find subsequent work opportunities. While workers themselves are often blamed for these failings, training during the first phase of EPWP fell significantly short of expectations. According to an official:
We failed miserably in terms of the training targets simply because for poor people when…the project come to an end, poor people move on because they have to keep the pot boiling so to speak. So they don't have the luxury to be able to participate in training while they are working on a project but they will exit as soon as they can to find the next working or work opportunity. (EPWP interview)  
Nevertheless, programme participants are often seen as unwilling to search for full time jobs once the part time subsidies have run out. Despite such critiques, however, many officials recognise this isn't simply a problem for participants or shortcoming of training: Jobs are simply not available for many job seekers. A global economic downturn and jobless growth trend have meant significant proportions of the populations cannot find consistent employment within the 'formal sector'. Recognising the precarious livelihood strategies and tribulations that emerge from this disjuncture, the national government has sought to create "work opportunities of last resort" through the development of cooperatives and smaller entrepreneurial projects in the waste sector. These have largely been unsuccessful, however, with most waste cooperatives failing.
Officials involved with or deploying public works programmes do not suggest they will solve mass employment, nor are they able to overturn systemic economic inequality. Recognising South African unemployment rates within broader socio-economic trends, many suggest this is the best the state can do for its citizens, connecting them to useful work that improves their communities while giving them the opportunity to make some money and, perhaps, gain a foothold in the world of formal work. Unlike historical views of public works programmes, which tended to emerge in times of acute environmental or economic crisis and focus on food production or infrastructural development, officials remind us that the 'E' in EPWP stands for 'expanded' thereby signifying a long-term and multi-sector programme that can ensure mass participation. To what extent this is possible remains to be seen.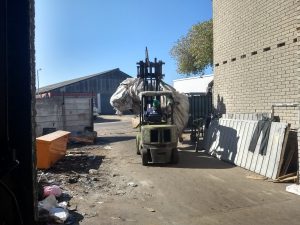 Community-focused Campaigns
Following from the national emphasis on work opportunities and entrepreneurial exit strategies, provincial and local state officials have initiated a number of community-focused campaigns, and programmes which endeavour to raise local awareness and involvement in waste.
In some cases, local approaches reconfigure local municipal waste labour to reflect a local public works programme. These efforts tend to be run through an outsourced contractor thereby devolving immediate state responsibility for service provision, while also propelling high-profile recruitment for frontline waste labour. In Ekurhleni municipality, for instance, Municipal officials and development contractors described a project aimed at developing local cleaning brigades in the following way:
"… the community… they haven't been aware … of what they can get out of waste… once they become aware of what they can derive from waste, I think they will actually come in on board to assist the municipality. Instead, we will be fighting for waste, all of us, but they have not reached that stage of being aware of the wealth that comes from waste. What I'm trying to bring in here is that the community can play a major role in sorting their waste. Once they realize that there is wealth in this they will start actually selecting waste and then keeping things that they can actually deal with them, that can bring money to them. So we haven't reached that stage. They will assist us in reducing waste by separating it. With us, we haven't actually assisted, assisted the community well in saying separate your waste because we don't have the system that caters for this selected waste."  
Alongside municipal schemes, provincial actors are also looking for ways to encourage and support community-level waste work. Western Cape has launched a Wasterpreneur programme targeting existing local SMMEs and cooperatives in the waste sector. Following recurrent contact from local entrepreneurs struggling to ensure compliance and business development, this programme selected approximately 15
 enterprises to receive mentorship, business support and guidance on state registration and regulation processes over a two year period. As part of this scheme, participating enterprises became involved in the provincial Recycling Action Group, thereby establishing relations with a broad array of state and scale private sector actors. While limited in scope and still underway, this initiative differed from any of its counterparts in the way it focused on operational enterprises and limited participation in favour or more intensive support.  
Entrepreneurship has also featured in schemes promoting community responsibility for waste work. In recent years, Jozi@Work was launched as a landmark procurement scheme which offered service contracts for community-based SMMEs and cooperatives, where departments had to use 20 percent of their budget towards the initiative. The programme was abruptly stopped, however, following claims of clientelism surrounding procurement and capacity agents. Officials claim that these intermediaries are necessary for supporting community SMMEs/coops since the city does not itself have this capacity. Despite this, the programme's legacy is still in question. The new municipal government is in the process of devising an equivalent programme, to be rebranded as the Community Upliftment Programme (CUP). Meanwhile, a minority of ex-Jozi@Work participants have led a sustained protest over the project's end, arguing for their positions to be protected on the basis of worker rights and livelihoods. At the time of writing, the Mayor has public announced his intention to insource approximately half of eligible Jozi@Work employees with permanent contracts and raising their wages from approximately 2,200 Rand to 6,000 Rand per month.
Community-focused programmes pursue a common objective: that participants will gain the skills to sustain their efforts independently, ideally establishing a cooperative or small entrepreneurial enterprise. Within these efforts, we find a truncated attempt to bridge responsibility with opportunity. The promise of future benefit is closely aligned with efforts to get residents directly involved in clean and green activities, including recycling, in the present. 
Government officials suggest that labour intensive strategies to waste management are still more cost-effective than significant technological investments. However, they are also looking for ways to get more people involved in waste labour while devolving responsibility and risks for the provision of such services. In keeping with a longer-term neoliberal strategy of outsourcing, the 'community' can perhaps be seen as the new frontier for responsibilized and devalued waste labour.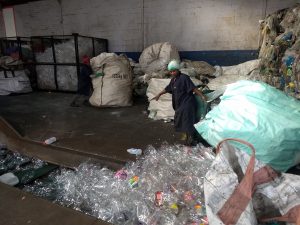 Discussion: What is a good job?
As these South African cases describe, creating jobs is one of the central preoccupations of governments around the world, and will remain so for the foreseeable future. Providing jobs is one of the goals of international development agencies and states across the globe. Goal 8 of the United Nations' Sustainable Development Goals, for instance, is "to achieve full and productive employment, and decent work, for all women and men by 2030." Founded on the estimate that more than 193 million people were unemployed in 2017, the UN encourages policies that promote entrepreneurship and job creation. For many, having work is not enough: the UN estimates that roughly 300 million employed people lived in conditions of extreme poverty in 2017.
While jobs are often framed as being critical to economic health at a number of scales, jobs are also often framed as essential to individual and collective self-worth. There is a difference between work and decent work. In our research in the private sector waste industry in South Africa, we found that many spoke of the need to create jobs as both an economic as well as moral imperative. To not work is not only  seen as economically destabilizing, but emotionally destabilizing as well.
In spite of these efforts to create jobs, the contemporary global economy appears to be increasingly decoupled from jobs in the so-called 'formal' economy. Advances in robotics and computer science are increasing rates of automation at rates previously unseen, and the financialized global economy is increasingly decoupled with job creation. In much of the global south, resources such as land are useful as investment vehicles for global north investors, while the people who reside there are not as no productive labour is needed. This creates a situation where economic growth does not necessarily create employment opportunities. Additionally, while automation has marked the advance of capitalism since its inception, the sophistication of robotics and new technology suggests a sea change in the form of contemporary work. Specifically, these dynamics suggest that "we are on the cusp of a new epoch that promises to radically transform the foundational dynamics of labour": "  as a result of a continuing erosion of capital's need for waged employees in productive activities, the market economy will have decreasing demand for the labour of an increasing majority of people" (Pierce
et al
, 2).
These changes have huge implications, and are prompting concerns about a future in which formal labour is no longer the primary form through which people interact with their world. These changes to the
quantity
of work match up with anxieties over the
quality
of contemporary work. Many who work in the formal sector are increasingly receiving wages that do not cover the cost of living. Additionally, many workers also complain of conditions of burnout and unfulfillment, drudgery and tedium associated with work that can feel pointless or unnecessary. Concerns over the quality of work play out in differentiated ways depending on geography, however. For countries of the global south with extremely low rates of formal employment, declining and shifting labour dynamics mean something very different than they do in nations of the global north facing concerns about automation or redundancy. 
Moving past labour?
In response to the changing economic dynamics detailed above, contemporary policymakers and scholars have proposed new possibilities for managing and distributing income. For James Ferguson, for instance, the expansion of cash transfer programs in Southern Africa is changing the nature of the contemporary state. This creates opportunities for thinking differently about labour, wages, and distribution. Referring to cash transfer programmes as "new modalities of distribution," he notes that "these new modalities of distribution are associated with both new kinds of political claim-making and new possibilities for political mobilization, even as they are also bound up with new ways of thinking and new rationalities of poverty. These new developments point both to the exhaustion of older forms of politics and to vital possibilities for new ones" (14).

For Ferguson, the rapid spread of programmes that directly transfer money to the poor, which might include initiatives like Brazil's Bolsa Familia programme, change the logics of contemporary governance and ask us to create new political narratives. Drawing from these concerns have been proponents of concepts like Universal Basic Income or Universal Basic Assets. Proponents of UBI call for the provisioning of a basic income as a right, with no relationship to age or employment. As a counterproposal, some have called in the United States for a Federal Jobs Guarantee, which would guarantee a decent paying job to any one who wants or needs one. Unlike UBI, calls for a federal jobs guarantee continue to frame labour as critical to income.
Guided Discussion Questions
What are the risks of community waste and public employment programmes, and how could these be resolved?
Empirical research in these sectors suggests a number of complications, many of which involve issues of patronage, clientelism, and corruption within work schemes. Finding ways of avoiding these dynamics is critical to the success of these projects, in and beyond the specificities of these cases. How might programmes be created in such a way that opportunities for graft are limited? Beyond issues of corruption and clientelism, these programmes also can be risky for participants themselves as work opportunities do not always equate to secure or improved livelihoods. There are substantial differences between full time jobs and casual, unfulfilling work. Is it better to work, even if the jobs are temporary and the conditions are not great?      
What is a decent job?
As jobs across the globe are automated or lost, working remains one of the foundational ways through which people are expected to receive their livelihoods as well as their sense of self-worth. Yet, if people do not need to work to survive, this raises question about if they should. The resources below offer different possibilities for how to arrange contemporary social life through approaches such as universal basic income and other forms of non work-based distribution.    
Primary Source Documents
Resources and Further Reading   
Waste, Labour, Infrastructure
Fredericks, R. (2014). Vital infrastructures of trash in Dakar. Comparative Studies of South Asia, Africa and the Middle East, 34(3), 532-548.
Fredericks, R. (2018). Garbage Citizenship: Vital Infrastructures of Labor in Dakar, Senegal. Duke University Press.
Godfrey, L. et al. "Understanding the South African Waste Sector: The economic and employment opportunities it provides." 7 October 2014. Accessible at:
https://www.wasteroadmap.co.za/download/presentation_02.pdf
Godfrey, L. (2016) Opportunities in the Waste Sector: The Green Economy as a driver of sustainable development and job creation:
https://www.wasteroadmap.co.za/download/presentation_10.pdf
Godfrey, L. et al. Co-operatives as a development mechanism to support job creation and sustainable waste management in South Africa:
https://link.springer.com/article/10.1007/s11625-017-0442-4#citeas
Godfrey, Linda. Historical Review of Waste Management and Recycling in South Africa:
https://www.mdpi.com/2079-9276/6/4/57
Millar, K. (2014). The precarious present: Wageless labor and disrupted life in Rio de Janeiro, Brazil.
Cultural Anthropology
,
29
(1), 32-53.
Samson, M. 2015: "Accumulation by Dispossession and the Informal Economy – Struggles Over Knowledge, Being and Waste at a Soweto Garbage Dump," Environment and Planning D: Society and Space, 33(5): 813-830.
Samson, M. 2010: "Producing Privatization: Rearticulating Race, Gender, Class and Space," Antipode, 42(2): 404-432.
Seekings, J. (2005). Prospects for Basic Income in Developing Countries: A comparative analysis of welfare regimes in the South. Centre for Social Science Research, University of Cape Town
Thieme, T. A. (2013). The "hustle" amongst youth entrepreneurs in Mathare's informal waste economy.
Journal of Eastern African Studies
,
7
(3), 389-412.
Wright, M. (2013).
Disposable women and other myths of global capitalism
. Routledge.
Postwork Futures and Presents
Arnold, C. 2018. "Money for Nothing: the Truth About Universal Basic Income."
Nature
557: 626–628.
Aronoff, Kate. With a green new deal, here's what the world could look like for the next generation.
The Intercept.
 https://theintercept.com/2018/12/05/green-new-deal-proposal-impacts/
Ferguson, J. (2015).
Give a man a fish: Reflections on the new politics of distribution
. Duke University Press.
Graeber, D.
Bullshit Jobs: A Theory.
London: Allen Lane.  
Lawhon, M, N Millington, K Stokes. A Labour Question for the 21st Century: Perpetuating the Work Ethic in the Absence of Jobs in South Africa's Waste Sector.
Journal of Southern African Studies.
https://www.tandfonline.com/doi/citedby/10.1080/03057070.2018.1528764?scroll=top&needAccess=true
Pierce, J., Lawhon, M., & McCreary, T. (2018). From precarious work to obsolete labour? Implications of technological disemployment for geographical scholarship.
Geografiska Annaler: Series B, Human Geography
, 1-18.
Srnicek, N., & Williams, A. (2015).
Inventing the future: Postcapitalism and a world without work
. Verso Books.
Weeks, K. (2011).
The problem with work: Feminism, Marxism, antiwork politics, and postwork imaginaries
. Duke University Press.