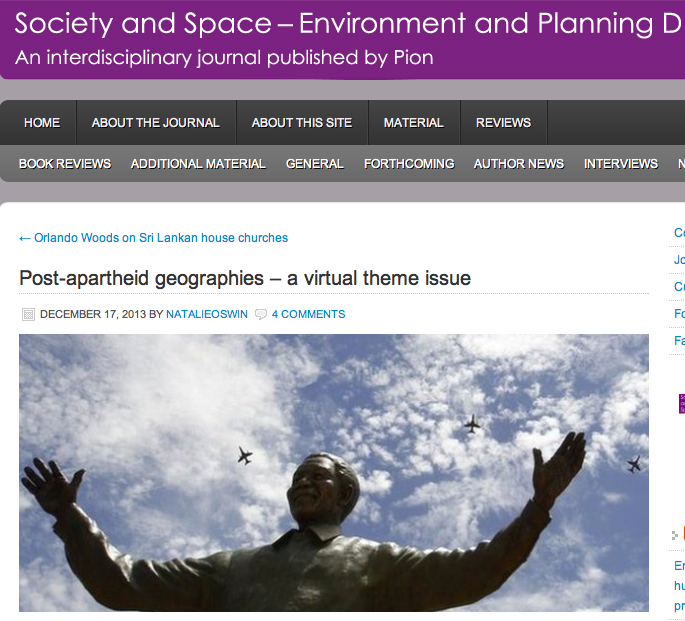 Two top geographic journals have posted links to their articles dealing with South Africa—before and after Apartheid—in remembrance of the death of the freedom fighter and first black South African president Nelson Mandela, both including articles by our own Mary Lawhon.
Society and Space: Environment and Planning D headlines Post-apartheid geographies – a virtual theme issue and writes:
The global outpouring of grief for this 'giant of history', as Barack Obama has called [Nelson Mandela], is simply extraordinary. Amidst the sadness, of course, there has been a deluge of commentary on Mandela's legacy. Along with commemoration, there has been much critical reflection on the contradictions, exclusions, and disappointments of the post-apartheid era that he, among many others, shepherded into being and indelibly impacted.
They continue:
As Slavoj Zizek asserts in a commentary for the Mail and Guardian, "if we want to remain faithful to Mandela's legacy, we should…forget about celebratory crocodile tears and focus on the unfulfilled promises his leadership gave rise to." The boos that met current South African President Jacob Zuma when he took the stage at Mandela's memorial exemplify this statement's potency.
Articles being placed into this virtual special issue includes articles from 1989 and early 1990s by Susan Parnell, Jennifer Robinson, Jonathan Crush, Sophie Oldfied up to 2013 by our own Mary Lawhon.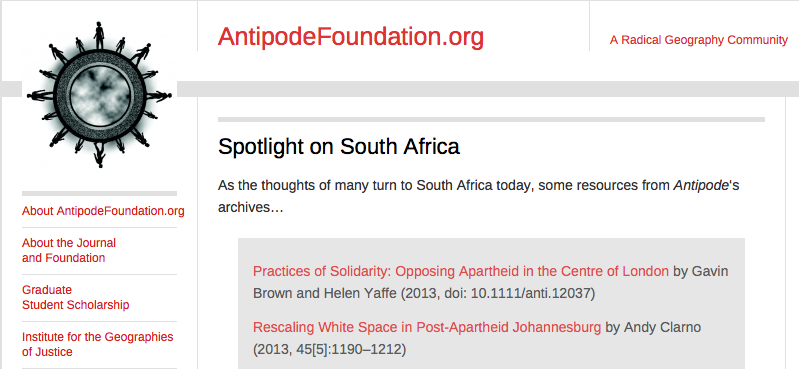 Antipode is the other journal that has gathered articles in their Spotlight on South Africa. They also have included a 2013 article by Mary Lawhon, and then features articles from 1991 and onwards by Andries Bezuidenhout and Khayaat Fak
ier, Anne-Marie Debbané,  Gillian Hart to Nigel C. Gibson's article on What Happened to the "Promised Land"? A Fanonian Perspective on Post-Apartheid South Africa by Nigel C. Gibson (2012, 44[1]:51–73).
Adding to their list from Situated Ecologies and SUPE projects
To their list we can add some articles from our own projects in South Africa dealing with how various groups relate and rework the urban environment in the post apartheid city of Cape Town.
Battersby, J. (2012) Urban food security and the urban food policy gap, Strategies to Overcome Poverty and Inequality: Towards Carnegie 3 Conference, Cape Town 3-7 September 2012
Graham, M., & Ernstson, H. (2012). Comanagement at the Fringes: Examining Stakeholder Perspectives at Macassar Dunes, Cape Town, South Africa—at the Intersection of High Biodiversity, Urban Poverty, and Inequality. Ecology and Society, 17(3).
Ernstson, H. (2013). Re-translating nature in post-apartheid Cape Town: the alliance of people and plants at Bottom Road. (R. Heeks, Ed.)Actor-Network Theory for Development: Working Paper Series, (June), 1–35. Retrieved from http://www.cdi.manchester.ac.uk/resources/ant4d/documents/ANT4DWorkingPaper4Ernstson.pdf 
Ernstson, H., & Sörlin, S. (2013). Ecosystem services as technology of globalization: On articulating values in urban nature. Ecological Economics, 86, 274–284. doi:10.1016/j.ecolecon.2012.09.012
Further reading
For those interested, I posted on my own blog In Rhizomia clips and commentaries from different news sources about Nelson Mandela. In particular Al Jazeera's coverage was good, reflecting the wider complexity of Mandela and the wider movement of which he was part, that he shaped and that shaped him. Also Mail and Guardian had good coverage, for instance in having digitized all their articles on Mandela since 1980, amongst others one by Susan Sonntag from 1986. A well-balanced short report is from South African critique Richard Pithouse who teaches politics at Rhodes University and who writes for the always useful SACSIS – South African Civil Society Information Service.
I also captured some of the debates on Sweden's role during the antiapartheid struggle (scroll down i the post). Maybe few

know that the Swedish state gave in total some 2.5 billion SEK to ANC, according to Pär Wästberg, a long-term antiapartheid activists, writer and journalist. Sweden was then governed in large periods by the Social Democrats under in particular Olof Palme and later by Ingvar Carlsson and together with all parties except the conservative party was in favor of trade boycott and to actively support the liberation struggle, alongside all other European and international activists.