Imagine that you just alighted at Kenya's Jomo Kenyatta International Airport, only 25 minutes from Nairobi's Central Business District. Obviously, the first thing that you will want to do is get connected. At the airport, there are often a handful of enthusiastic mobile telecommunications agents and personnel that are readily on standby, more than willing to introduce you to their product, service or offers. It is at this point that you are often led to a counter or compartment for an authorized agent within the vicinity of the arrival hall.
Buying one of the Subscriber Identity Module (or SIM) cards will involve registration and subscription not only for communication services that include calling and Short Message Service (or SMS) texting, but also for moving money through the encrypted SMS and Unstructured Supplementary Service Data (or USSD) platforms. These services provide the baseline infrastructure for a wide range of different services that offer unique and innovative mobile-phone based applications and systems. They rely on text and short code and often – in some ways – fall within different categories including M-Pesa, Airtel Money, Orange Money – the most popular of which is Safaricom's (Lipa Na) M-pesa.
For all the systems, registration processes are usually free of charge, require customer-identification, and often end with the 'Activate' (or 'Wezesha' in Swahili) option and a 4-digit number (or PIN) received from the operator as confirmation. Upon this, the mobile money account is officially 'open,' and hard cash can be deposited and transferred through an agent into the mobile phone account as 'mobile money.' Alternatively, mobile transfer transactions can be made from a local bank or second or third party. Once the money is 'in' the mobile phone account, one can then pay all sorts of bills. This includes taxi-cab or car hire services from the airport. Like the mobile communication operators, taxis are car hire services have strategically positioned counters and agents outside the arrivals terminal with personnel on standby to introduce you to the next cab or car.
In what could be a great opportunity to use the mobile money service (probably for the first time), the 'transfer' of 'mobile money' from one phone to another is likely to come with great ease given the simplicity of the step-by-step instructions for making a simple mobile payment via SMS text threads and USSD menus. The simplicity of these instructions are explained by the act that the system is designed to make transactions possible even with the most basic 'feature phone' or handset.
One is most likely to be amazed by the speed, ease and convenience of making real-time payment transactions to the taxi or cab driver. Or even with the public transport (matatu) systems that have designated routes. In spite of the fact that the matatu cashless fare payment system in Nairobi has hit a snag (although there have been attempts to revamp or reintroduce it), there are up to five transit, navigation and (in-bus) communication applications in Nairobi. These include DigitalMatatu, matatumap, Ma3route, and Flashcast. These and similar applications are essential for one trying to situate and orient oneself in an otherwise chaotic city. They provide collaborative data, maps and visuals within a city whose public transit routes can be quite inaccessible, inconsistent and inconvenient for a stranger and inhabitant alike.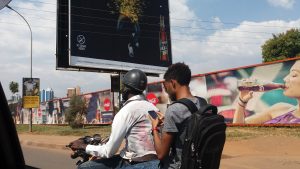 With such systems, my experiences as a researcher in Nairobi has always propelled a certain feeling of presence within a space of unceasing and insurmountable mobile connection, network, encounter and entanglement. This is where I am most likely than ever to tap into the unprecedented applications, systems and services for querying, payment, and other forms of transaction. I am always tempted to make bill payments for services or reservations at a hotel, a guest house, or restaurant for instance through 'M-Pesa' or 'Airtel Money.' Mobile payments may even seem more suitable for services and goods in malls or arcades, stores and supermarkets, and pretty much for all utility bill payments such as electricity, gas, water, television subscriptions, fueling at petrol-stations, rent, and so on and so forth. In fact, it may almost seem plausible to simply inhabit the city with as little cash as possible if not for any other reason than security, safety and convenience.
And of course, as my research concerns urban infrastructure, mobile technologies and Nairobi, I now increasingly find that software development, mobile-enabled infrastructural engagements, and the mobile money market are indeed key signifiers of the city's identity. Nairobi's unfettered innovation vivacity is not exceptional, however. That is, unless one was to count the exceptionally successful stories and the exceptionally targeted initiatives that are aimed at place-making to portray an image or identity of a city that is centrally situated in the region as an economic and industrial hub.
Otherwise, the effects and configurations of the mobile age have not been restricted solely to Nairobi. The case of Nairobi reflects East African cities which are becoming increasingly synonymous with new formations of urbanity caused in part by the emergent reliance on and production of mobile media, devices and technologies as tools or platforms of access, innovation and (financial) transaction. The uptake, appropriation, and domestication of mobile telephony over the last two or so decades has extensively shaped new forms of doing, acting and being, with cities including Nairobi, Mombasa, Dar es Salaam, Kampala, and Mogadishu increasingly becoming synonymous with new orientations and configurations.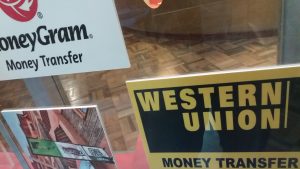 This is largely because African cities in large part share colonial histories and post-colonial responses to it. They share an insurmountable presence of global institutions of modernity and urbanity, and configurations of hegemonic capitalism and market-oriented models and ideals of neoliberalism. In the same fashion, they do share a common platform as spheres of a new entrepreneurialism amidst opportunities that the mobile age provides. They share a new positioning where they are increasingly becoming novel sites of commodification, economic opportunity, and thriving industries that are increasingly based on the production of mobile communication technologies such as M-Pesa (in Nairobi) and Hawala (in Mogadishu). The splintered, diversified and fragmented nature of African cities has increasingly given rise to varieties of embedded and pervasive mobile-based platforms that are increasingly becoming key variables in the structural configuration and renegotiation of the urban sphere in which everyday life is animated. This happens even more so within cities muddled by conflicting forces of neoliberal, consumerist and modernist developmental networks on one hand and situated, located and domestic traditions on the other.
The questions that I ponder as a researcher with interest in cities, technologies and infrastructures concern why and how African innovations have become what they are today. I ask how these cities have come to be regarded as some of the most 'digitized'—or rather 'mobilized'—in the world, as hubs, nexuses and junctions for some of the most critical technologies in the Global South. My lessons thus far centre around the necessity to re-examine and re-imagine African issues and technologies through situated and located lenses. And in this, to empirically explicate key realities, practices, identities and materialities – especially those that are increasingly deemed to receive less focus in mainstream academia.