TLR — Turning Livelihoods to Rubbish? Impacts of Formalisation, Financialisation and Technologization of Waste Management on the Urban Poor (2016-2019)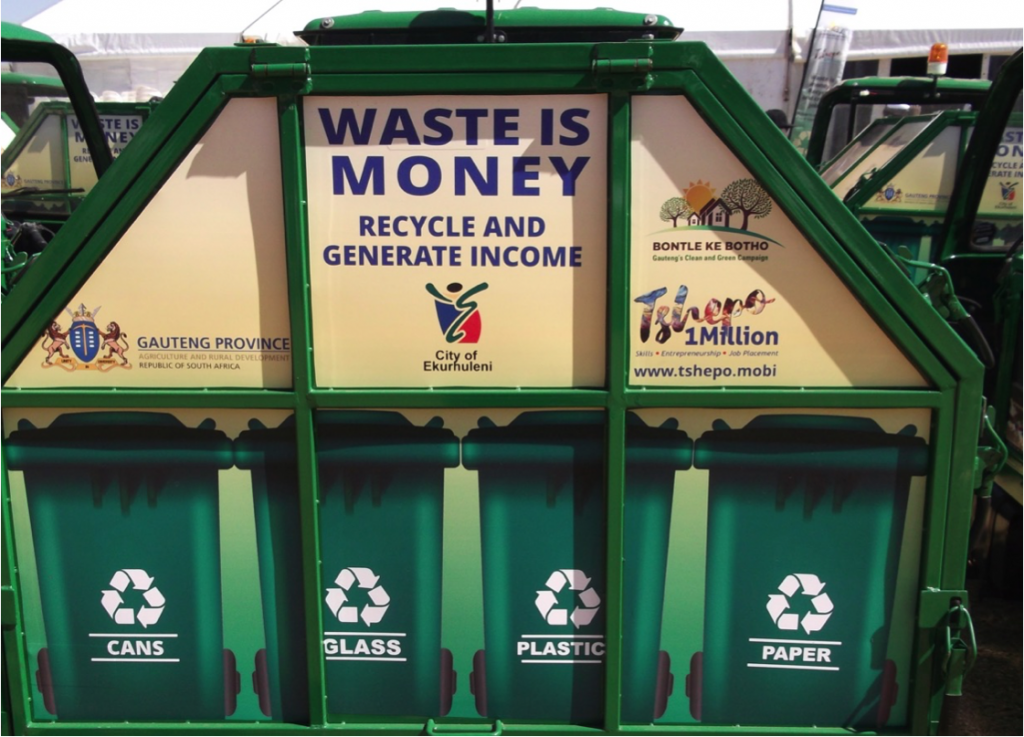 Project Description
This three-year project examines global trends in waste management which are reducing access to the livelihoods generated from waste for the urban poor. Environmental concerns from different actors, and awareness of the financial benefits of waste are contributing to the formalization, the financialisation, and the use of technology to replace the labour of handling waste. This could improve health for the urban poor, but also undermine livelihoods developed around waste and recycling and feeds into a wider arena of governance responsibilities.
We examine specific interventions in South African waste management, from collaborative efforts between state and civil society to contested issues of using incineration to burn waste. In parallel we trace national-to-international waste business/state capital relations, in particular those linked to clean development mechanisms. Together this seeks to understand competing claims to waste and the governance processes through which these claims are adjudicated. In collaboration with partners we have done desk-top research on the situation in Ghana and Uganda to increase the comparability of our research to low-income countries of Southern Africa. Theoretically we draw upon research in urban political ecology and development studies.
The project is based at the School of Environment at the University of Manchester in collaboration with the Department of Geography at the University of Florida, the African Centre for Cities at the University of Cape Town and KTH Environmental Humanities Laboratory at KTH Institute of Technology in Stockholm. The project runs from 2016 to end of 2018 with fieldwork starting in 2017. The research team will engage stakeholders through two workshops in 2017 and 2018 and a regional workshop in 2018. Research outputs include video and digital story telling for wider dissemination.
Project Resources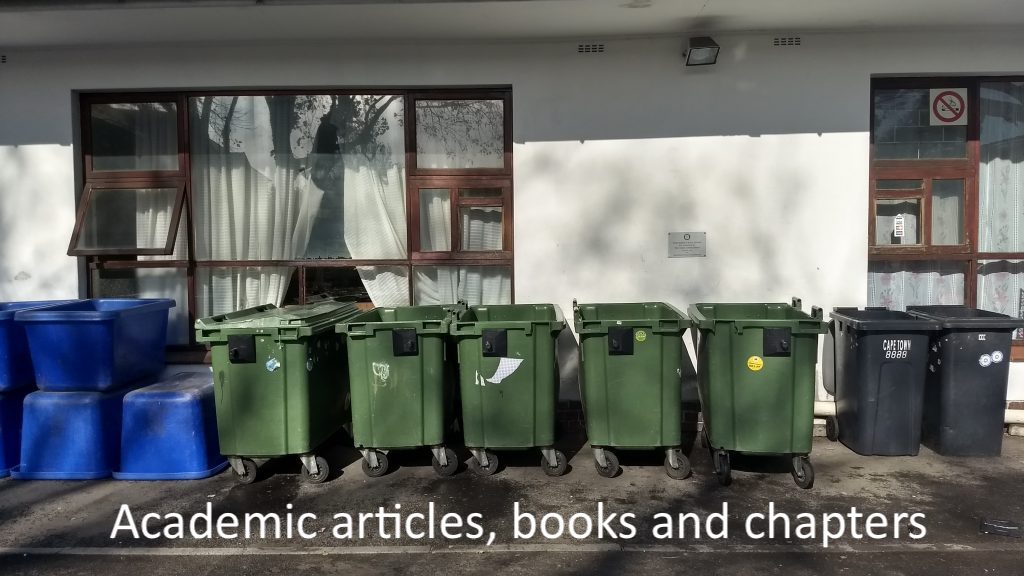 Documentary film about the contested chain of extracting value out of waste in urban South Africa: Turning Livelihoods to Waste? created by film-maker Yvette Kruger and TLR researchers Nate Millington and Henrik Ernstson (35 minutes, 2019). Suitable for teaching, online and face-to-face.
[expand title="Click for more about the film."]This film, one of the primary outputs of the broader Turning Livelihoods to Rubbish? project, introduces a creative look at the politics of waste in Cape Town, South Africa. This film is designed to highlight the unequal, power-laden relations through which waste circulates, and to offer insight into an industry that is often out of sight. Drawing from interviews with a number of different role players within the waste economy, the film highlights different perspectives on waste in order to call attention to some of the central tensions of the industry. The film situates waste management within a city defined by intense inequality and unevenness, highlighting the perspectives of reclaimers who perform much of the necessary collection of recyclables. Current efforts to formalize waste management and recycling initiatives have implications for informal waste pickers or reclaimers, who do much of the primary work with waste in the global south. Our film subsequently highlights the often fraught relationships between waste reclaimers and the formal waste management sector.
The title of the film – Turning Livelihoods to Waste? – is designed to raise a serious of questions about ongoing processes of formalization in the waste sector and the implications for those who currently work in the waste sector. Many who work with waste in South Africa work as waste pickers or reclaimers, and they are often subjected to extremely difficult work conditions. Ongoing attempts to formalize these systems threaten their livelihoods, creating new uncertainties and vulnerabilities. At the same time, there are serious questions about whether reclaimers should be expected to work in dangerous conditions, and what sorts of alternate arrangements may be more just and more ecologically sustainable.
There is no easy answer to the problem of waste. As such, we show multiple perspectives that are not necessarily complementary. Our intention is not to tell a proscribed story, but rather to allow for different viewpoints to be articulated. Our hope is that viewers will be able to develop their own takeaways from the film, and that the film could be used as a springboard for in-class discussions with students around themes such as dignified work, inequality, and waste management. The film provides a visual look at the environments in which waste is found and handled in the city. Combined with sound-bites and insights from the role players, we explore the way different people in the city handle waste, for what purpose and for what outcomes.
Scholarly reference:
Kruger, Yvette, Nate Millington, and Henrik Ernstson. 2019. Turning Livelihoods to Rubbish? (Documentary film, 35 minutes). South Africa & UK: Situated Urban Political Ecologies. http://www.situatedupe.net/tlr/turning-livelihoods-to-rubbish/.
[/expand]
Presentations and Publications
TLR Project Workshops
Presentations from TLR Final Stakeholder Workshop (August 2018)
Research Team
Professor Erik Swyngedouw, The University of Manchester, Principal Investigator
Dr. Mary Lawhon, Oklahoma University, Co-I
Dr. Henrik Ernstson, The University of Manchester, and African Centre for Cities, University of Cape Town, Co-I
Dr. Nate Millington, The University of Manchester, and African Centre for Cities, University of Cape Town, Postdoctoral Researcher
Dr. Kathleen Stokes, The University of Manchester, PhD student
Ms Anesu Makina, Oklahoma University, PhD student
Funder
ESRC-DFID (Poverty Alleviation; Ref: ES/M009408/1)
Project time
2016, 2017, 2018, Feb 2019.