'Maybe, it's okay for the big people [rich/elite] to live by the sea. But, for us [kampung residents], our rights have run out.'
–Interview with Kampung resident, 11 July 2017, Kampung Kerang Ijo.
For traditional fishing kampung (urban villages) along North Jakarta's coast, there have always been livelihood uncertainties. Residents daily manage how many fish they will catch or how much they will sell for. They monitor the sea for the ebb and flow of tides, knowing that coastal floods are both common and sudden. Yet, kampung residents face new uncertainties about how much longer their way of life may be viable, as they are squeezed out and overshadowed by mega-projects.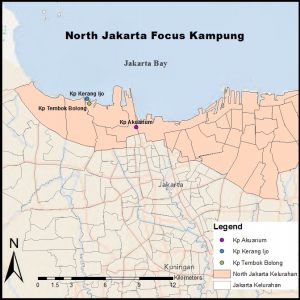 Kampung cluster between large developments, open spaces, rivers, and formalised housing throughout Jakarta. They are usually high density, and are hubs of informal economic activity. In addition to encroachment from the increasing spread of high rise developments, residents in the north of the city are also subject to urban transformations that are intended to mitigate flood risks. One of these projects is the Great Garuda Seawall Project (GGSW; see this recent post), a partnership between Dutch firms and Indonesian ministries to construct a giant seawall that will close Jakarta Bay with the expectation that this will protect the rapidly subsiding North Jakarta from sea-level rise and floods. The sea wall is coupled with plans for thousands of hectares of land reclamation and subsequent property developments that will serve the city's elite.
Land reclamation projects have created significant environmental degradation in the bay and along the North Jakarta coast, at great cost to kampung residents. For example, fishing and green mussel cultivation practices in Kampung Kerang Ijo (see above map) have been irreversibly damaged. As stated by one fisherman, 'Since reclamation, instead of four miles, I have to go eight miles…And of course, the quality and result is way less than before reclamation, the sea has been disturbed'. Flood mitigation developments also bring with them the threat of eviction. In 2016 alone, the then-Governor oversaw the eviction of more than five-thousand families and businesses in his campaign to crack down on 'illegal' settlements. Many of these evictions took place in riverside or coastal kampung communities, similar to Kampung Kerang Ijo. The justification for these evictions is often flood mitigation efforts or public works to improve traffic conditions.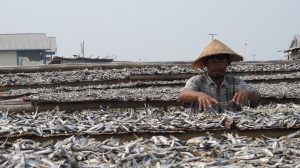 Fishmonger dries gutted fish outside Kampung Tembok Bolong.
Infrastructure projects, such as the Great Garuda Sea Wall, are pursued in the name of urban resilience, claiming to protect Jakarta from the physical threat of flooding along the city's rivers and northern coast. But these projects are also part of the spatially fragmented and intensely unequal process of remaking Jakarta as a global city. As described by Abidin Kusno, Jakarta has become a 'project' city, defined by leapfrogging developments in profitable sites that leave behind pockets of unprofitable areas to survive or die on their own. North Jakarta is a battleground in this process. Political and economic elites want to remake the city and its residents as modern and resilient through large infrastructure projects and urban green space, in a process labelled by Kusno as 'green governmentality'. Flood-prone areas of the city, like North Jakarta, were in the past seen as undesirable spaces, leaving kampung residents scope to eke out their livelihoods on the margins. Now, these Northern areas of the city are becoming attractive to middle and upper-class Jakartans as these infrastructure projects and modern apartment and mall developments promise ecological security. These transformations bump up against kampung residents' everyday livelihood practices and homes.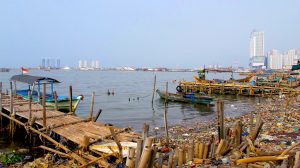 New malls encroach upon kampung and fishing infrastructure.
In general, the scholarly literature about resilience and adaptation assumes that residents manage risks and uncertainties from environmental threats within the constraints of their adaptive capacities. In Jakarta, residents must contend with how the state chooses to respond to these environmental threats or uses these threats for their own objectives.
Kampung residents do not only watch as these elite projects come increasingly close to their homes and destroy their communities, however. Kampung residents use collective strategies and social infrastructures to rebuild and maintain their livelihoods and home spaces in the face of these shocks. Kampung residents work to deflect and rework these political interventions through their everyday activities of working, living and organising in the city.  
Forming inter-kampung alliances based on shared livelihoods and maritime identities is one form of strategising in North Jakarta. Residents in Kampung Kerang Ijo, for example, have mobilised and connected with other kampung across Jakarta to protest land reclamation and evictions. Groups involved in these protests include traditional fishing associations, community fishing groups, fisherman wives' associations and kampung community groups. These coalitions have formed due to speculation that mega-infrastructure projects, such as GGSW and river dredging, will lead to more large-scale evictions or obstructions.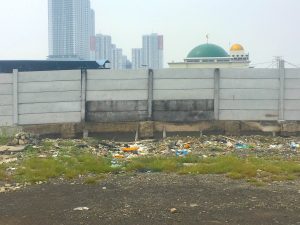 Wall construction near Kampung Tembok Bolong
Residents in Kampung Kerang Ijo and Tembok Bolong have also pursued a political contract to protect their neighbourhoods from eviction and provide protections for street vendors and livelihood transitions for becak (pedicab) drivers. Two urban poor alliances based in Jakarta, the Urban Poor Consortium (UPC) and Urban Poor Network (JRMK), brokered this political contract, which was conditional on delivering polling booth wins to the current gubernatorial team, Anies Basweden and Sandiaga Uno (Anies-Sandi) during the April 2017 election. The alliances can pool resources from different kampung and scale up their concerns through larger protest actions. But, it still remains unclear if Anies will honour election promises to freeze the land reclamation project in coastal areas: one month after taking office he has already recommenced riverside dredging projects across Jakarta.
In addition to forming new alliances that build social infrastructures across Jakarta, residents also rework physical infrastructures. In Kampung Tembok Bolong, the GGSW is not the only wall causing consternation and disruption to fishing practices. The North Jakarta local government has constructed two additional inland tidal flooding dykes near the kampung in the past year. These cleave access to the Muara Angke port area, where many residents work in fishing, fish mongering, or selling snacks to port workers. As with other large infrastructures, this project occurred with no prior community consultation and attempts to negotiate with the Maritime and Fisheries Authority were unsuccessful. After this failure, residents in the kampung built their own access door and bridge over an adjacent drainage canal to access the port more easily. Residents pursued this action because accessing the port by an alternative road would require both extra time and costs (for motorbike petrol). This involved speculation that creating a small passageway door was unlikely to be noticed by authorities or strategically placed to not cause issues with water flowing into the kampung. This action was considered a best-case workaround as residents were dubious any formal infrastructure upgrade would improve access to the port area for them.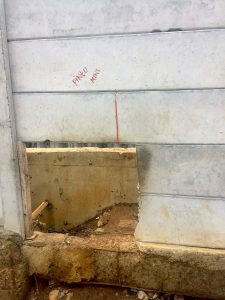 Photo of 'mini door' to port
Infrastructures to prevent flooding are critically important, especially in a warming world. But they are linked to real estate developments for political and economic elites in Jakarta at the expense of kampung communities. For residents in Kampung Kerang Ijo and Tembok Bolong, their livelihoods not only depend on having rights to the city, but, crucially, a right to coastal access. Many kampung residents come from rural coastal kampung, and living close to the sea evokes strong memories and emotions. Equally, it is an economic necessity for those who fish, cultivate mussels and shell in these communities. Infrastructure in these communities is scarce, but when implemented, it exists for the amenity of middle- and upper- class Jakartans, while destroying traditional practices and threatening to displace kampung communities from North Jakarta. And, the so-called 'big people' drown out the voices of kampung residents when it comes to city-planning and infrastructure creation. Mobilisations in both Kampung Kerang Ijo and Tembok Bolong demonstrate the urban poor do not accept incursions silently, and have the capacity to form network responses to city development.
Brittany Betteridge and Sophie Webber, School of Geosciences, The University of Sydney