Report from "Turning Livelihoods to Rubbish? Project Workshop" with stakeholders at UCT, Cape Town, 17 February 2017
Nate Millington reports from a rewarding and constructive stakeholder workshop in Cape Town on the politics of waste management in South Africa.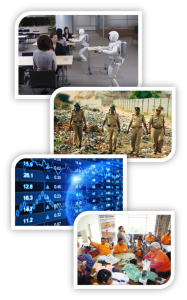 On 17 February 2017, researchers from the 'Turning Livelihoods to Rubbish?' (TLR) project met with researchers and activists associated with the waste sector in South Africa. The purpose of this meeting was to create connections between researchers and learn from local activists and experts. During a wide-ranging conversation that moved from the specific dynamics of research to broader questions about the nature of politics, TLR researchers explained their interests and were given suggestions about how best to conduct their projects. Participants in the workshop included Dr. Derick Blaauw (North-Western University),
 Musa Chamane (groundWork), 
Rico Euripidou (groundWork), 
Dr. Linda Godfrey (Council for Scientific and Industrial Research), Dr. Melanie Samson (University of the Witwatersrand), Dr. Andreas Scheba (Human Sciences Research Council), Dr. Catherina Schenck (University of the Western Cape), Caitlin Tonkin (Sustainable Livelihoods Foundation), Dr. Kotie Viljoen (University of Johannesburg), 
Dr. Harro von Blottnitz (University of Cape Town), and Quinton Williams (Green Cape), alongside the TLR research team.  
After an introductory presentation by Dr. Henrik Ernstson that situated the project within four wider trends in waste management (including the internationalising of waste finance alongside ongoing dynamics of community responsibility, automation, and institutionalisation), each member of the TLR research team gave an overview of their project. Presentations focused on the politics of waste governance at the local, national, and international scale, part of our broader interest in the generation of value from waste and the implications of these processes for informal recyclers. Specific projects focused on:
The institutionalisation of recycling in South Africa

(lead: Dr. Nate Millington)

Community responsibility and workers' livelihoods

(lead: Kathleen Stokes)

The internationalisation of waste finance

(leads: Dr. Erik Swyngedouw, Dr. Henrik Ernstson)

The technologization of waste management: Waste-to-energy, livelihoods, and multi-scalar governance

(leads: Dr. Mary Lawhon and Anesu Makina)
After each presentation, workshop participants offered feedback on next steps and gave insight into ongoing dynamics at a variety of scales. The conversation offered a broad panorama of ongoing issues and controversies affecting the waste sector, with implications that connect to national-level industrial policy, the global trade in recycled goods, and localized labour dynamics.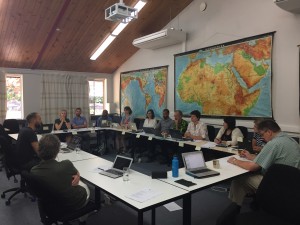 In keeping with the broader goals of the project, participants discussed the implications of ongoing changes to the recycling sector and the implications for informal waste reclaimers. Additional conversations focused on the politics surrounding clean development mechanism funding for waste projects in South Africa as well as broader discussions around the nature of politics in contemporary South Africa. Project participants discussed the implications of more legislation, and the often-conflicting legislation at both the national and local scale. Throughout the conversation, project participants returned to the fundamental questions that mark this project: how is value being generated from waste, and what are the implications for workers who regularly work with waste?
Thanks to the insights offered by workshop participants, members of the TLR team were left with a series of concrete next steps. These include:
Continuing to dialogue with workshop participants about specific possibilities for involvement with ongoing policy processes related to the incorporation of informal recyclers into waste management programmes at the national level.

Working with groundWork and the South African Waste Pickers Association to build connections with waste pickers and understand their organisational structures and political desires.

Organising a second workshop in early 2018 to continue the conversation initiated through this project and further possibilities for collaboration.

Developing connections with ongoing research activities across the various universities represented focused on waste.

Continuing conversations at the academic level through further collaboration between all universities present at the workshop.
As the first workshop in what is a long-term, collaborative project in South Africa, this workshop demonstrated the importance of situating research projects and developing them in conversation. Thanks to all of the workshop participants for taking the time to come to Cape Town and share their insight with us. We hope that this workshop will be the start of a sustained conversation, and look forward to future collaborations as our research goes forward.
By Nate Millington, on behalf of the TLR Team which includes: Dr. Henrik Ernstson, Dr. Mary Lawhon,  Anesu Makina, Dr. Nate Millington, Kathleen Stokes, and Dr. Erik Swyngedouw.