Kathleen Stokes reflects on waste management and political ecology in Cape Town. Kathleen is a PhD student in Human Geography at the University of Manchester with a research focus on community responsibility and labour in waste management. She is part of the Turning Livelihoods to Rubbish Project, which is run in collaboration between the University of Cape Town, the University of Manchester and Florida State University.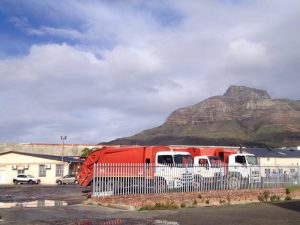 While attending the ACC's winter school on democratic practices, I was fortunate enough to meet with a range of people involved in Cape Town's waste management system. Through these discussions, and my own encounters with the city's sites of disposal and decomposition, I was struck by the variety of imperatives driving waste management, and the relations between people whose livelihoods depend on the sector.
Managing rubbish is a complex affair in any city. In Cape Town, the municipal government is responsible for waste management services, and informed by legislation and policy imperatives from national and provincial government. Within the context of rapid urbanization, enduring inequalities, and state promises of universal service provision, municipal strategies have tended towards neoliberal strategies of contracting out, public-private partnerships, and cost recovery. In addition to contracting service responsibilities out to businesses, Cape Town's municipal waste management service also looked towards residents to play their part.
As part of its strategy, Cape Town has launched public education and engagement campaigns like Waste Wise, which seeks to raise public awareness of waste reduction and encourage residents to start and help with community schemes – such as local compost to school recycling schemes. In recent years, this programme has focused on supporting Green Zones, designated neighbourhoods that receive support to pilot a holistic approach to community waste education and engagement. While the project has been on hiatus since 2014, some follow-on activities appear to be underway in Green Zones and other parts of the city.
Such initiatives profess a positive impact amongst residents, and align themselves to discourses of empowerment, job creation, and sustainable communities. However, they do not exist in a vacuum. If we understand waste management to be a sort of lively infrastructural assemblage (for instance, see Amin, 2014 and Graham & McFarlane, 2015), we can appreciate that community responsibility is undoubtedly related to formal provision of services, and the practices of informal waste collection. What happens to waste, who is contributing their effort, and how is their labour valued?
Over 2017, I will look more closely at Waste Wise and other initiatives promoting community responsibility for waste management in South Africa's cities. By investigating changes to waste management in areas involved in such schemes, I hope to understand what transformations have occurred to the everyday functioning of waste management, and to the livelihoods of whose who those labour is keeps the frontlines going.
As this project unfurls, I am left with more questions than answers. Still, focusing on the relationship between community responsibility and worker livelihoods can provide us with a better understanding of how value and labour are manifested within the processes and dynamics of urban waste management. Drawling upon a SUPE lens, I will frame my research by integrating urban political ecology with neo-Marxian, post-colonial and South African understandings of labour, infrastructure and livelihoods. Most of my research will take place over 2017. Fortunately, I am supported by my supervisors and colleagues in the TLR project. As this time draws nearer, we are making final preparations and continuing to review the discourses, policies, and practices shaping waste management in different urban contexts across South Africa.
As ever, my colleagues and I hope this process will be of interest to others. If you would like to hear more, or have any comments or suggestions, please don't hesitate to get in touch (kathleen.stokes(at)postgrad.manchester.ac.uk).

Thank you to Dr Henrik Ernstson, staff and colleagues at the African Centre for Cities and KTH Stockholm for supporting my participation in the democratic practices winter school. Likewise, thank you to the University of Manchester and the ESRC-DFID Poverty Alleviation Fund for their support of my PhD.